Full-color? Gradients? One color?
We can print your logo as large or as small as you want and in any style – kiss cut, panel cut die-cut.
Upload your high quality file, select your size and type in any specifications you have and we'll send you a proof for approval and go to print.
An effective and low-cost way to brand your walls and elevate the look of your fitness facility!
Save
Save
Save
Save
Save
Save
Save
Save
Save
Have motivating quotes, your mission statement or other text you want turned in to a decal? Here you can type your text, select the color, font and size and customize it to fit your space. Bring those boring walls around the gym, fitness center or workout facility to life!
Save
Save
Want something to compliment your wall decals and decor, but not sure where to start? We have products just for your industry here. Also, feel free to check out www.vecteezy.com and other resources below on this page for ideas too! We help to make your space fit your brand!
Save
Save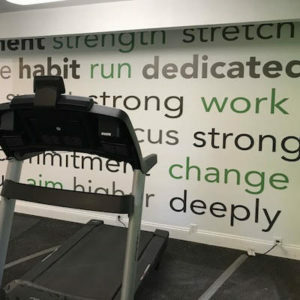 What Can We Do?
Here at Wall Decal World, we specialize in custom business wall decals. Whether you need a small decal or a total office makeover, we can help. Our popular options are company logos, mission statements and text, as well as creative art pieces and full wall wraps.
You can upload company logos, write in your mission statement or send us your ideas if you don't even know where to start! We start from the beginning and help you through the process to make decorating your business walls easy, fun and beautiful! We have stock colors and fonts to help your decide if you aren't sure what to get started with. We can also use your company font and colors as we know your brand is important to keep consistent.
Are you new to wall decals and a little nervous to use them for your company? Don't be! We think our installation instructions provide a good visual for how the wall decal will come (https://walldecal.wpengine.com/installation-instructions). Most customers find that once they have the decal, it makes more sense and ends up being a pretty simple process.
Have questions? Contact us using our contact form
Do you have a specific font or look you are trying to achieve with your custom text? While we offer 7 fonts, we can also use your specific company font or one from www.dafont.com. With thousands to select from, this will make your gym feel completely customize.
Save
Save
Save
Save
Save
Save
Save
Save
Save
Having a hard time figuring out exactly what you want your fitness decal to look like? Browse thousands of free designs at vecteezy.com to get the ideas flowing! Send your ideas our way and we can help customize size, color and more to turn your dream gym into a reality.
Save
Save
Installation can seem overwhelming for some larger projects. Take a look at our installation page for self-installation directions for various types of vinyl material or we can get a a price quote for a professional installer within our national network of certified installers.
Save
Save